Thank you for your interest in our school. During this time, we are changing the way we are working to provide parents with the peace of mind that they can still plan for their child's educational future.
We are holding regular Virtual Open Mornings for those parents who want to meet the Headteacher and other members of the teaching team. If you would like to be informed about when the next one is being held, please email admissions@longcloseschool.co.uk and write your request in the comments box.
If you don't want to attend a Virtual Open Morning, but would like more information about our Virtual Admissions Proces, in the first instance, please do get in touch with our Admissions Team via the form at the bottom of the contact us page. Tell us more about your child and let us tell you more about our Admission Process, our school and what we have to offer.
We look forward to meeting you, albeit in the virtual world for the time being.

Our Temporary Admissions Process
Step 1
Make an Enquiry & View Our Prospectus
Tell us a little about your child by filling in the form at the bottom of the contact us page. We will send you a digital copy of our prospectus and our Admissions Team will be in touch to discuss your interest in the school.
Step 2
Meet the Headteacher on Skype
Whilst we plan for the day when we can safely welcome you to our school, we have put together some virtual opportunities to meet our Headteacher Miss Nijjar and wonderful staff team.
We are holding regular Virtual Open Mornings using Zoom technology, which parents are finding very useful. You can also book a 'Virtual Tea with the Head': a one-to-one live meeting with our Headteacher, either via Teams, Zoom or Skype, whichever works best for you.
In addition to this, you may want to speak to a specific teacher, our director of sport or a member of the pastoral team. Let us know, and we can also set up any additional virtual meetings for you. Please contact the Admissions Team to make the arrangements.
Step 3
Application & Assessment
If you would like to proceed with an application, we may ask your child to complete an online assessment and/or meet the Head on a Skype call. This can be arranged as we continue to speak throughout the process.
Long Close School Video Tour
Long Close Headteacher, Miss Nijjar, explains why families choose the school to educate and nurture their children.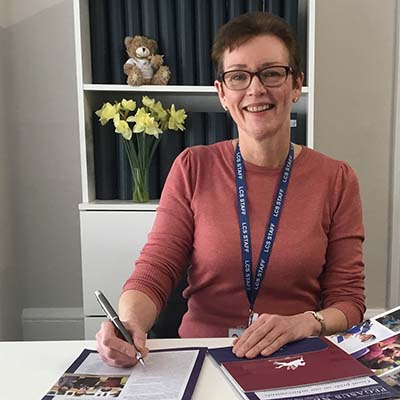 Jane Gee
Admissions Registrar
I'm Jane, Admissions Registrar for Long Close School. We look forward to hearing from you and getting the chance to tell you more about our wonderful school.