Forest School Fun for Early Years Children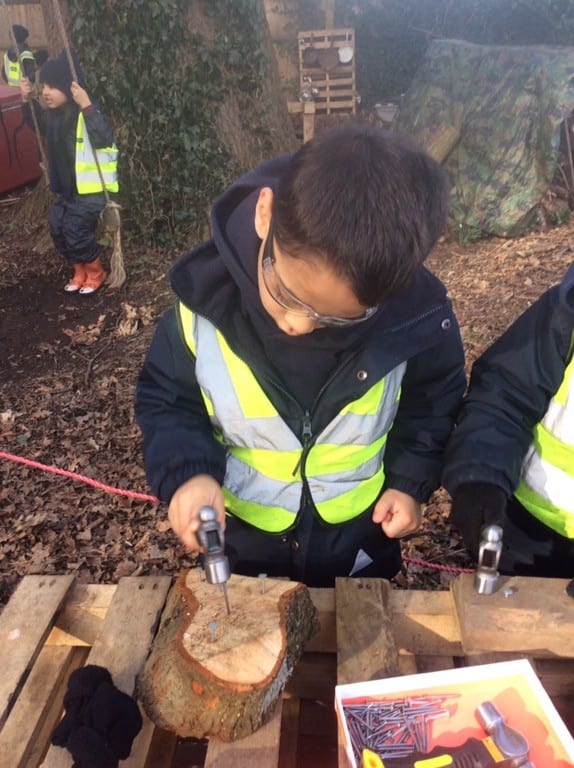 Our Reception children took a visit to the Forest School Tool Shop this week where they learnt how to use a bosaw! They sawed the logs and then safely practised using a hammer and nail to create vehicles and trucks.
Forest school is an important part of our Early Years curriculum and children start classes from the age of two. Since introducing it to the curriculum in September 2020, there has seen a significant improvement in the children's physical development. Children negotiate space safely, developing new skills such as sawing, climbing and starting campfires.
. Staff are trained about the importance of outdoor learning, how to achieve it and what benefits it has for young children
The children are encouraged to take carefully thought out risks by our highly qualified and passionate Forest School leader.
All year, come rain or shine, the children have 2 hour Forest School Sessions on our own school site each week. (Some schools say they do Forest School but it is just for a term per year)
The children have developed a real curiosity towards the world around them due to the experiences and knowledge they are learning whilst at Forest School.
Why not book a tour of our Early Years department and see our Nursery, Pre-school and Reception classrooms, as well as a visit to the Forest School. Email admissions@longcloseschool.co.uk or call 01753 520095. Alternatively you can complete the registration form here.
Published on: 11th March 2021