Official opening of Nursery Expansion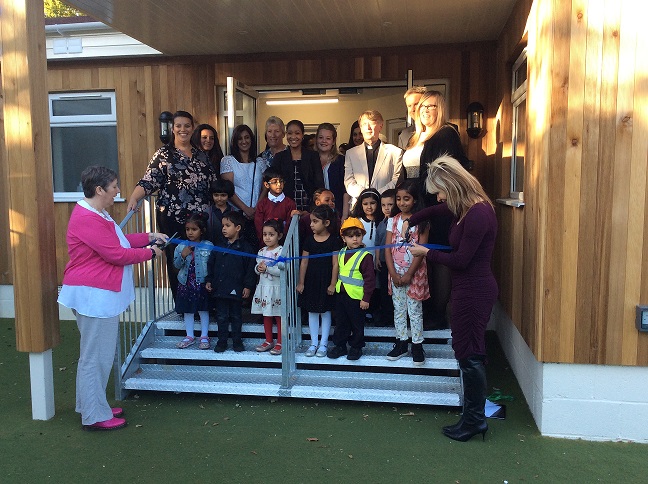 Our newly expanded Nursery was officially opened yesterday by Ms Marion Brown, lecturer at East Berkshire College and mentor to some of the school's Early Years' staff at the Nursery, and Ms Danuta Tomasz, Assistant Director of Education at Cognita Schools. Parents, children, staff members and friends of the school gathered in the new classroom for the special event, which included singing by members of the Junior and Senior Choirs and the cutting of a celebratory cake.
Expansion work over the summer included an additional tinted, heat reflective glass covered play 'room' to the side of the building, a new classroom with extra toilet and nappy changing facilities, and the extension of another classroom in order to provide more play and learning space for the children. The play area behind the Nursery has also been expanded to include a fenced off grass area for the children to use.
Speaking about the development, Mr Brendan Pavey, Headmaster of Long Close School, said: "It took a lot of hard work from both builders and staff to make this happen over the summer and I would like to take this opportunity to say thank you to all those involved. The expansion has already made a significant difference to our Nursery provision as the children are able to enjoy learning and playing in a more spacious and flexible environment. I would also like to say thank you to our special guests for coming today, and to Cognita for the investment itself, which is enabling us to deal with the increasing demand for places as the Nursery's excellent reputation continues to spread."
Speaking at the event itself, Ms Marion Brown said: "It is wonderful to see the expanded space on offer here, which provides more opportunities for both children and staff to use. I can see that a lot of effort goes into creating a stimulating environment in a calm setting for the children here and I know that the staff focus on making sure that learning is fun. I am also greatly encouraged by the fact that Long Close invests heavily in its staff as well as its infrastructure, which will provide the best possible outcome for each child. It is so pleasing to work with an employer who really values the importance of a degree-led early years profession."
Published on: 6th October 2016