Music is a key part of life at Long Close School. Our Director of Music, Mrs Nunes,  leads all classroom lessons from our Early Years pupils through to GCSE.
Workshops
Recent trips have included 'Westminster Abbey and Wicked' in the West End for KS4 pupils and Young Voices at the O2. We host regular music workshops, recent ones including African Drumming, Stomp and drama improvisation.
Extra Curricular Clubs
We have dance and drama extra curricular clubs run weekly by external specialist staff, and these have termly showcases to which parents are invited. The ballet students also work towards exams following the Cecchetti syllabus.
The School Choir
The School Choir is our most popular club and runs after school weekly and leads our whole school Carol Service and Speech Day events at St Mary's Church in Slough. We also take part in the 'Young Voices' Event at the O2, and attend 'Wellington College Prep Choral Day' annually.
GCSE Option
Music is GCSE options and is a popular choice with our pupils. Every year the children enjoy a trip to London's theatreland to enrich their studies.
Peripatetic
We have a dedicated team of peripatetic staff who support the musical development of our pupils. Pupils showcase their performance skills in lessons, assemblies and concerts throughout the year, and each term children are entered for ABRSM Music exams very successfully.
Virtual Guitar Lessons during Lockdown
We caught up with Joshua and Dr Chandler to find out how their virtual guitar lessons are going during lockdown.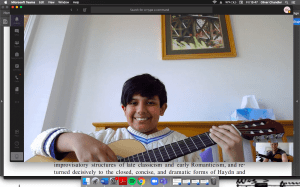 Joshua
The world has almost stopped because of the COVID-19 pandemic. Shops, restaurants, and cafés are closed, and streets are almost empty. However, guitar lessons and in general one-to-one peripatetic music lessons don't have to stop! Thanks to wonderful technology, lessons can still happen like they used to do at school. I would say that I am very comfortable now with Microsoft Teams.
Lessons with Dr Chandler remain informative and in the musical world there is plenty to learn. For thirty minutes on a Friday afternoon, I get my weekly dose of guitar learning. I have gone through, in a few lessons, 4 pieces by the Cuban composer Leo Brouwer, in part of his guitar study called Études Simples. For the first time since Year 4, I have gone off the beaten track of learning for my guitar Grades but instead focused on non-related studies and books. Therefore, these lessons are less focused and more relaxed, but this also makes the lessons more interesting and challenging and allows me to develop my skills.
I really enjoy my lessons with Dr Chandler. He is a particularly good teacher and his teaching methods are easy to understand and all-in-all has taught me so much. I thank him for that, and I want to continue and progress through my guitar grades. He is very patient and helpful, and I look forward to every lesson.
Dr Chandler
I approached online instrumental teaching with a feeling of trepidation. Could it really be a substitute for face-to-face instruction? Three weeks into the Summer term and my worries have been assuaged. Microsoft Teams is an excellent medium through which to teach. The sound is clear and the picture is good. I can send over sheet music to students and we can look at it together on screen in real-time, meaning that we can talk about the interpretation of particular bars and even particular notes. I can model aspects of technique to my camera, too, and even zoom in on the intricacies of what I'm doing in a way not possible in a classroom. More important, though, it has been wonderful to communicate with my students again. Indeed, dialogues feel smooth and natural, even at a distance, on account of the brilliance of technological mediation. I am enjoying my work as a guitar teacher as much as ever!
Dr Oliver Chandler