Sport Update – Mr Powell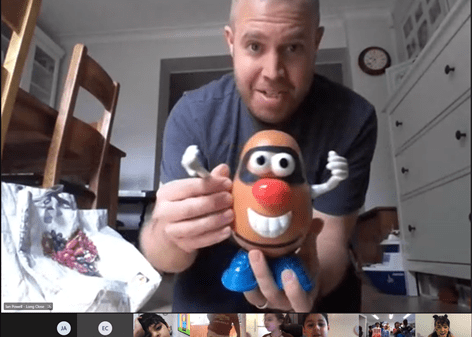 During our final week of online PE lessons, we have smashed some fantastic workouts and tough challenges before we all return to school.
Our Pre-school and Reception classes had a visit from Supertato on World Book Day – as we discovered that the supermarket had been turned upside down by an esca…pea! I couldn't do my weekly shop until we had helped Supertato catch the pea and also put the supermarket back to normal! Well done Pre-school and Reception for helping to save the day!
Prep and Senior School pupils have been exploring some tough press-up positions – including an exaggerated press-up (from a very high position right down to the ground). We have challenged ourselves to move objects around the room whilst holding difficult positions and completed a couple of low impact HIIT workouts too. It has been a real mix of activities this week – and it has been a lot of fun too!
Now we look forward to returning to school and having some more normal lessons – we are planning some cricket and netball lessons as these lend themselves well to socially distanced activity. Pupils will continue to come to school in PE kit on their PE and Games days.
Finally, we have brought the Land's End to John O'Groats challenge to a close. Below are the final distances. Well done to everyone who took part – thank you for sending me so many distances that you walked or ran over the last few weeks. Congratulations to Kensington who had a massive charge in the last week to take the lead and push over the 800 mile mark and get so close to the finish line! Well done to all the other houses for your superb efforts too!
It is important to maintain these good habits – keep exercising as often as possible, spend time together as a family out on walks or bike rides and most importantly, enjoy being active – especially as we get closer to the summer and hopefully some warmer weather.
As always, stay safe when you are out and about.
1st Place: Kensington – 837 miles
2nd Place: Windsor – 748 miles
3rd Place: Hampton – 687 miles
4th Place: Buckingham – 600 miles
Published on: 5th March 2021