The Benefits of Child-led Learning at Little Long Close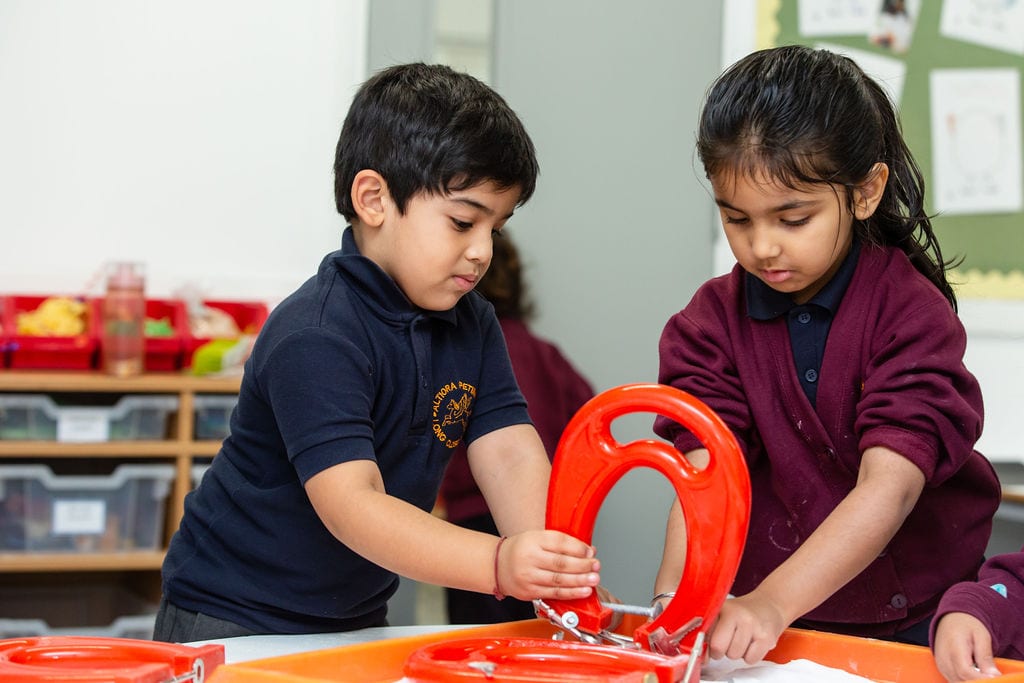 Little Long Close is where our youngest learners start their school journey. From the age of two, children join Nursery and progress through to Reception, all in the same vibrant and engaging purpose-built Early Years setting.
Children in Long Close Early Years benefit from a child-led approach to learning that places their interests at the heart of the curriculum, producing exceptional results. By the end of Reception, 90% of children are working above, or at, the expected level of development in Reading and Writing.
In this article, Mrs Carpenter, our passionate head of Early Years, explains why a child-led approach to Early Years learning will create a lifelong love of learning in children.
"The child-led approach to learning is something very close to my heart. As an experienced Early Years teacher, who has worked in many settings, I have seen the benefits first-hand.
"During their Early Years of education, children benefit from being given opportunities to explore their own interests, develop fascinations and discover new information. Child-led learning enables children to choose and guide their own learning, helping to develop a broader range of topics that children are genuinely interested in.  Children flourish when they are in control of what they learn; outcomes and interests also increase.
"After the children choose their topics for the term, learning is achieved through a variety of teacher strategies: child-initiated play, adult-led activities, 1:1 intervention and free flow learning throughout the entire environment."
The Curriculum
The curriculum at Little Long Close is born out of meaningful discussions with the children during circle time, where they are invited to share ideas about what everyone would like to learn about.
Children's imaginations are incredible when they are given the chance to express them. In the past, their ideas have included Pirates, the weather and Jack and the Bean Stalk. By discussing and planning the learning with children, they develop a sense of pride and, most importantly, a greater interest in what they are learning about.
Implementation
Once teachers have worked with the children to plan what they want to learn, inspiring ways of hooking the children into the learning are developed; this helps to create awe, wonder and excitement each day.
By creating a 'hook', children are immediately engaged in the new topic they are learning about. Each time we explore a new story or topic, we also set up the entire Early Years setting to enhance the learning experience. Previously, the Early Years building has had a beanstalk growing from the ceiling in the classroom, a dinosaur egg has been found in the playground and the Big Bad Wolf has paid us a visit too!
Nursery, Pre-school and Reception children have access to all the Early Years classrooms during Busy Bee time because of our free-flow system. The rooms contain a combination of child initiated (when the child accesses an activity independently) and adult-led activities (when an adult supports a group of children with learning a new skill) available.
The Benefits
Planning lessons, activities and topics that children have thought of produces greater outcomes in each individual child because they remain involved and develop a natural love of learning.
Long Close aims to make every learning experience exciting and memorable so that children can recall events to their peers, family and other teachers: that is the mark of success.
For learning to last in children, it needs to impact them and prepare them for their onward education.
 The Results
Whenever anyone visits us at Little Long Close, people comment on how independent the children are.  Children make informed decisions about what they want to explore, developing skills by trying new activities, communicating with others and asking questions to find out more information.
Our children make accelerated progress in all areas of learning. Children know to use what they have learnt independently, leading to mastering a skill they may not have been exposed to before.
In Early Years, the children choose when to practise reading, writing or a creative skill independently. These skills can be developed through an activity with an adult, but a child doing this independently consolidates this even further.
We would welcome the opportunity to meet with you and currently have the following opportunities:
Monday 19 to Saturday 24 April – on-site tours
Friday 7 May at 10:00am – Virtual Open Morning
1-2-1 meeting with Mrs Carpenter at any time
Please contact us to book your tours by making an enquiry here or call 01753 520095
Read more of our informative blog posts here.
Download our Starting Reception booklet below.