Why I Moved my Child from State to Private Education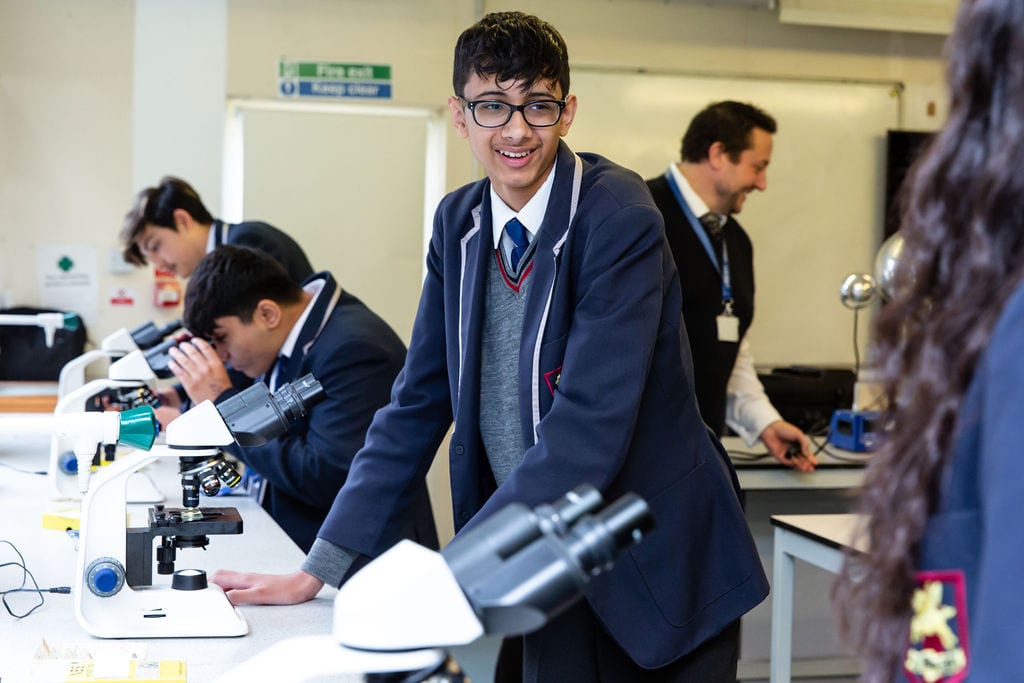 Choosing a secondary school for your child is an important decision, which can involve making the choice between private and state provision. At Long Close School, we have many parents who have decided that a private education will suit their child better than state or grammar schools, so we decided to ask one of our parents about how they arrived at that decision and why they chose Long Close.
The Decision
When it was time for our son to move to secondary school, we looked at all options.  We visited several state secondary schools, and the main thing we noticed was how many pupils were in each year group.  All the schools talked about assessing our son in the first few weeks to decide which GCSE level he was suitable for.  To us, it appeared that a decision about our son's potential would be decided in the first weeks and would determine the level of teaching he would receive throughout school. The state schools were also very large and when we visited the schools our son grew quite nervous about being in a school where there were enormous numbers of children present.
When we visited Long Close the approach was totally different.  It was clear our son would be in a small year group and the teachers would assess our son's potential regularly and put in a plan which helped him to achieve the very best he could.  Every pupil has expectations that are personal to them.
We felt that Long Close was the right fit for our son.
Research
We started researching schools as our son moved into Year 6 and visited open days for three state schools as well as Long Close.  The Long Close website was very informative, and the tour is highly recommended because it gave us a feel for the school's small, family feeling. We were really impressed when meeting the teachers, pupils and management team.
Transferring
It was very easy to transfer.  The application process was straightforward, and the admissions team kept in touch via email throughout the entire process.  The process was short, and the selection day was very well organised and fun.  After that event, my son said he just wanted to go to Long Close as it was the school for him.
The Difference
There are several differences that we have noticed so far.
Communication – the quality of communication to parents is significantly better than state school.  It is timely, well thought out and professional in its delivery.
Teachers – the teachers at Long Close are passionate and approachable. They know your child as an individual and understand how to get the best out of them. The teachers appear to be happy being at work and that shows in the way they teach the children.
Covid response – The teaching switched seamlessly to online during the last lockdown.  It was obvious that there was a plan in place, and it was well communicated. My son was learning as he would do at school, having full lessons with the teachers including PE for three hours per week.  During the first lockdown in a state school my son got 10 minutes with a teacher per week.  Hardly any work was set, it was not reviewed by a teacher and subjects like science, history and art were non-existent; there was no support from the state school at all.
I was pleasantly surprised to get a school report after the first few weeks at Long Close, as well as further school reports during the first and second terms.  The teachers' comments were constructive, and it was easy to see that they were talking about my son.  There are clear targets set with areas of development clearly defined.  In the state school, reports were more generic, and it sometimes felt like the comments were copied and pasted rather than being individual.  Parents' evening at state school were under 10 minutes in length and only twice a year, which was quite frankly really disappointing.
Positive feedback is provided more regularly at Long Close compared to the state school.  My son regularly receives house points or positive feedback on good work. In the state school he never really got recognised for the hard work he did or the results he produced.  It was always the same children who got prizes and house points.
The benefits
My son has become more confident.  He has made friends and his independence has grown.
He enjoys going to school and is being motivated by the teachers to learn more.
He enjoys the added benefits of Friday afternoon enrichment and is looking forward to the out of school experiences once Covid is over.
Enjoyment
He has enjoyed learning new subjects like Science, Design and Technology and Religious Studies.  He has been surprised about the topics discussed in these classes and they have inspired him.
He really enjoyed entering the Young Writer's competition and seeing his work published in a book.
He likes the enrichment opportunities on Friday afternoons and enjoyed the couch to 5k challenge.
Parental Engagement
More regular and well thought out communication is one of the biggest differences.  I was also really surprised that all the teachers welcomed my son on his first day, knew his name and asked about his summer holidays.  As he left on his first day, he was asked by the Headteacher if his day had been good and what he had enjoyed.  You wouldn't get that at a state school.
We also like the teacher profiles as it helps us to get to know them better.
Why Long Close?
We were looking for a school with smaller class sizes, but without compromising the options available.  We felt Long Close gave us that.  They had small class sizes, but vertical tutor groups which allow our son to mix with a larger number of pupils from different years.  All the teachers were enthusiastic, and the site is open and functional; it just felt right.
Advice for other parents
My advice would be to go and look around the school and get a feeling as to which one fits your child the best.  Meet the teachers, children and management team.  Do not be afraid to ask questions so that you have all the information to make the right decision for your family.  I would also encourage parents to ask private schools about scholarships, many offer Academic, Music, Sport or Arts Scholarships. If your child is awarded a scholarship, they can receive a reduction in fees.
We are still accepting applications for all School Years. Register your interest by clicking here and we will send you a prospectus.
Please visit our Virtual Open Morning Experience by clicking here.
Alternatively, you can call 01753 520095 to speak to our Admissions Manager, Jane Gee.
Please do read our other blog The Advantages of  Private Education here.